I spent a fair bit of my Thanksgiving holiday watching the "Little Drummer Girl" mini-series on BBC/AMC, apparently the second film version of the John LeCarre novel of that name. Whether you've seen it or not, I've done the hard work in this post of distilling everything about it that you need to know.
On the plus side:
Yes, the cinematography is as lush and captivating as everyone is saying.
Yes, Florence Pugh is hot, and does a great job portraying her character, Charlie.
Yes, Alexander Skarsgard is hot, and does a great job portraying his character, Gadi.
Yes, they have good chemistry.
Yes, Michael Shannon is credible as a Mossad agent, or at least as credible as he needs to be to an audience consisting primarily of non-Mossad agents.
Yes, the series is worth watching, even with all of its flaws and at 6 hours' showing time, and yes, it whets your appetite for the book (which I haven't read).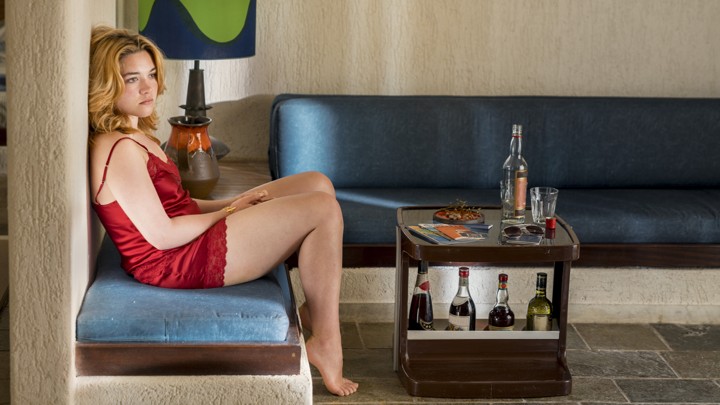 On the minus side:
The plot of the film is confusing enough at times to make you think that the book must surely make more sense than this. To avoid spoilers, I'll let you make your way through the various plot confusions on your own, and assume that you're enough of a secret agent to make your way out of them.
The plot of the film also strains credulity enough to make you think that the book must surely be more credible than this. As in:
Would Mossad really recruit a 22-year-old anti-Zionist English pub actress to function as the central figure in a major counter-terrorist operation?
Would British intelligence really give Mossad free rein to run its own essentially unsupervised (but heavily subsidized and supported) intelligence/counter-terrorism operation on British soil?
If the answers to both questions are "no," as I think they are, "Little Drummer Girl" starts to look more like science fiction than political thriller. (Incidentally, the head of British intelligence is somewhat tendentiously played by Charles Dance, depicted here as a stereotypical anti-Semitic twit, a characterization essentially continuous with the Tywin Lannister he  plays on "Game of Thrones.")
And then, like so many films on this subject, "Little Drummer Girl" embodies one of the primordial clichés of Zionist piety: evidently, the emotional heart of the Israel/Palestine dispute is not the conflict itself, but the hand-wringing, tear-jerking angst felt by civilized Israelis for the brutal things they've "had to do" to inscrutably uncivilized Palestinians. Ultimately, every decision in "Drummer Girl" involves an anguished inquiry of the form:
Should we, forced by necessity, commit some barbarity? Or should we, by appeal to our conscience, refrain?
Naturally, the formula for mulling things over is to jump into bed, have a fumble under the sheets, then jump out, find someone out there with a funny moustache and Arab accent, and blow his fucking head off.
No matter how much sympathy "Little Drummer Girl" tries to conjure up for its Palestinian victims (or how little), the story it tells revolves around the love story of Charlie, the sexy anti-Zionist ingenue, and Gadi, her sexy Israeli handler–the latter an idealistic soldier who does the best he can to reconcile his humanitarian impulses with the ruthless imperatives of his profession, always to the detriment of the former. Though "Al Nakba," Deir Yasin, and the 1967 occupation lurk vaguely and elusively in the film's shadows, they play no essential role in the plot—not that the average American viewer would either know or care. (The action of the film takes place in 1979.)
While I think "Little Drummer Girl" is ultimately worth watching, I would, for purposes of balance, suggest watching it in tandem with "Omar," a 2013 drama on the same topic, but told from a consistently Palestinian point of view. I happened to have watched it in Abu Dis, the West Bank town in which it was shot, with a Palestinian audience (predominantly female) that was invited to discuss it after the viewing.
My Palestinian friends are somewhat divided on the merits of "Omar," the more cynical and hyper-critical describing it as bullshit that strains credulity, and the more charitable describing it as "a good try." That said, I'm inclined to think that if you're going to ingest one kind of bullshit, you may as well ingest a contrasting kind in the hopes that the ingestion of contrasting forms of bullshit leads to insight that can't be gotten from one. But "bullshit" also strikes me as an overly cynical account of either film. At least I think it does.
The Wikipedia entry for "Little Drummer Girl" describes the ending of the book in this way:
Charlie subsequently has a mental breakdown caused by the strain of her mission and her own internal contradictions.
I don't blame her. I nearly had one myself after my first trip back from the region—as I think almost anyone would, assuming they went to the right places and saw the right things. The film conveys only the shadows of this, captivated for obvious reasons by the love story at its center rather than the politics at its periphery. The combination of "Little Drummer Girl" and "Omar" does more than either one on its own at highlighting "internal contradictions," but if you really want to experience a dialectical meltdown, nothing beats being there. I long for the film that conveys the experience of being there, but until then, I'm content to watch Pugh, Skarsgaard, Shannon & Co. go at it, whether under the covers, or over the top. It's all in good fun, which I guess is more than can be said of the conflict itself.